RE: Air Conditioner Update
Hello Church:
The main air conditioner remains not working at the church. It will be warm at Sunday services throughout August.
We had two HVAC companies evaluate the church main air conditioner. Both stated that the A/C unit had completely failed. We are trying to assess now if the HVAC engineering plans for the new facility need to be upgraded to accommodate the entire church HVAC system, or if we should just replacement the system on only the sanctuary side (thus having two separate systems).
Keep in mind that the HVAC is composed of several components:
The outdoor unit (outside the Pastor's office) containing the condenser coil, compressor, electrical components and fan (which gets rid of the hot air)

The evaporator coil, which is installed in the sanctuary attic inside the church (which cools the inside air)

A series of refrigeration lines, connecting the inside and outside equipment

Refrigerant, the substance in the refrigeration lines that circulates through the indoor and outdoor unit

Ducts that serve as air tunnels to the various spaces inside the church

A thermostat control system to set the desired temperature

Electrical power adequate to drive all of the systems
We also need to assess the electrical system to see what can be accommodated on the sanctuary side with a new unit.
The A/C unit is from 1979 and is rusted and very old.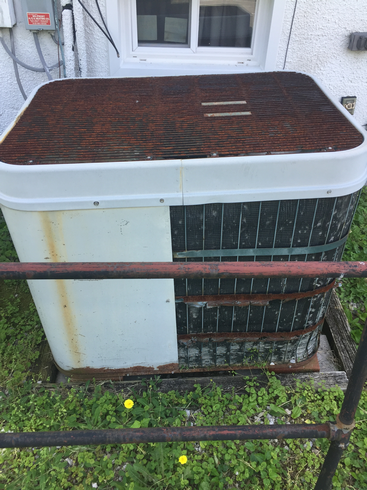 We are working this issue aggressively; however due to the engineering required in consideration of the new facility, a resolution may take a couple more weeks. Engineering needs to be consulted and then the Trustees need to meet and make a recommendation and then present to the Church Council. Judy is working with the engineers to assess the best recommendations.
As we did last week, the three window air conditioners will remain on all night, and will cool the church to some degree.
PLEASE DRESS with loose cool clothing tomorrow.
Thanks to Pastor, Roberta, George, John and Judy for the support this week on this issue.
Please feel free reach out to reach out to anyone by phone or email also to assist in distributing this communication.
Best regards and blessings,

Derek
//
Locust UMC urgent announcements such as church closings, changes in meeting schedules, power outages, excessive snow, etc. will be posted here.
Keep in mind that if our power is out, then we will not be able to post messages to this Website.
Therefore always verify with alternative sources (in addition to this Web site) to find out about Locust UMC urgent announcements.